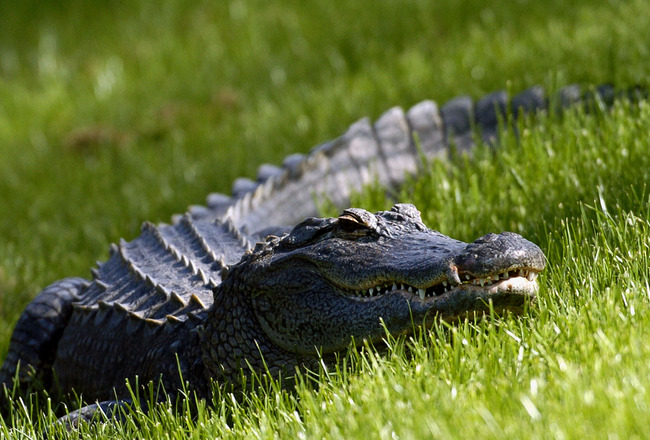 Will Munschamp and the Gators want revenge on the Gamecocks in the SEC East
A. Messerschmidt/Getty Images
The Florida Gators kick off Lee W's SEC East Football preview. Lee will be making his five predictions for Will Munschamp's Gators in his first season as Florida Head coach.
Gainsville, Florida:
Urban Meyer
knew it was his last game as the University of Florida Head Football Coach. He did not disapoint the Gator Nation, as the team jogged off of the field with a 37-24 victory in hand and an Outback Bowl boomerang to add to the trophy case. The fans clapped as Meyer shook hands with Penn State coach Joe Paterno at midfield at 75,000 seat Raymond James Stadium in sunny Tampa, Florida.
It was a happy ending for the coach called it quits on December 10th, who wanted to spend more time with his family.
However, Florida fans knew it was a disgraceful year to be a Gator, knowing that two national championships had been won twice in the same five year time period.
The Gators had lost too not only mediocre Mississippi State, but they were also demolished by the South Carolina Gamecocks in a game that decided the winner of the SEC Eastern Divison. The coach was not anybody but Steve Spurrier, who was destroying the program he had built into a powerhouse. The final score? 36-14.
Florida AD Jeremy Foley did not hesitate, hiring former Texas Defensive Coordinator Will Munschamp on December 12th.
Foley waited only 2 1/2 days to make the hire.
"This is a dream come true," Munschamp said in a statement.
I grew up watching the Gators and whatever other SEC team was on television," Muschamp said. "I have great memories watching SEC football with my father on Saturdays and playing football in the backyard with my two brothers right here in Gainseville."
Munschamp perhaps made the splashiest assistant hire of the offseason. Enter
Charlie Weis
, and the new pro style attack; and John Brantley should be ready to thrive.
Not so fast.
Brantley only completed 4 of 14 passes for 45 yards in the UF Spring Game. The Gators wideouts and linemen also have plenty to prove.
On the other side of the football, the defense is young; only returning two starters.
Nevertheless, Florida is hoping for improvment up front with the additons of Sophmores Sharrif Floyd and Dominique Easley to the starting lineup.
6'4 Sophomore Ronald Powell, (who was the nation's overall #1 recruit in 2010) will play the "Buck" position in new coordinator Dan Quinn's defense. The position is a hybrid between the outside linebacker and defensive end.
The secondary could be a concern due to the dismissal of senior CB Janoris Jenkins. he was kicked off the team in April after a marijuana arrest.
Full article on Bleacher Report
http://bleacherreport.com/articles/581068-can-will-munschamp-and-the-gators-chomp-throught-these-five-predictions#/articles/581068-can-will-munschamp-and-the-gators-chomp-throught-these-five-predictions